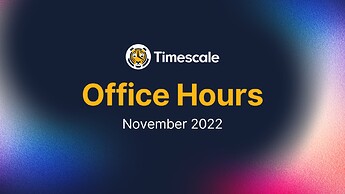 2022-11-16T17:00:00Z
We look forward to welcoming you to our open office hours on the THIRD Wednesday of the month at midday Eastern time. See above for the time in your time zone.
These sessions are hosted by our developer advocates and community team and offer the chance to meet with other users, ask questions, and receive inputs from other Timescale users in the field. Here's the standing agenda
Introductions with hosts Chris Engelbert (Senior Developer Advocate) and Kaylan Hardy (Marketing Coordinator)
Questions from the community
Latest updates from TimescaleDB (with occasional demos and product spotlights)
Any other business
Here's the recording of November's session (remember you are more than welcome to attend the session and stay camera and mic off): Timescale Community Office Hours: November 2022 - YouTube – don't forget that YouTube has a 'play fast' facility if you want to skip through more quickly

The November post is now closed, if anyone has new questions for the Timescale Team, don't forget to add them to the next office hours session.
Calendar reminder
To add office hours as a regular event in your calendar, grab this ics file