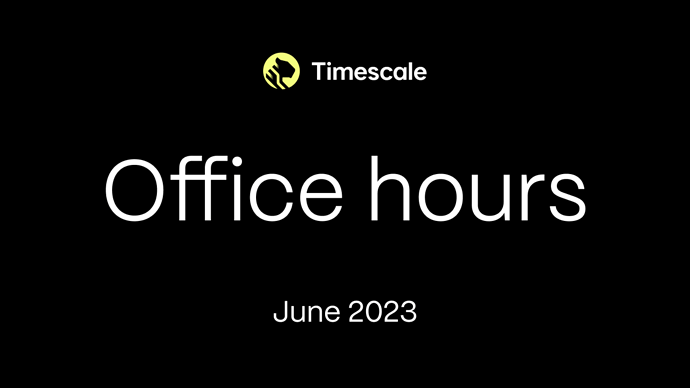 We look forward to welcoming you to our open office hours on the THIRD Wednesday of the month at midday Eastern time. See above for the time in your time zone.
These sessions are hosted by our developer advocates and community team and offer the chance to meet with other users, ask questions, and receive inputs from other Timescale users in the field. Here's the standing agenda
Introductions with the Developer Advocates Chris Engelbert and Jônatas Paganini
Questions from the community
Latest updates from TimescaleDB (with occasional demos and product spotlights)
Any other business
The session will be recorded and shared here in this post after the event. If you don't want to be recorded, you are welcome to join and stay the mic and camera off. You can still participate by joining in the text discussions.
Do you have a question for the team?
Please add your question for the team to address during office hours as a reply to this post. Lots of notice is always very welcome! Browse any existing questions to see if you can bring your experience to share in the discussion.
How to join
Office hours sessions are hosted on Zoom. Here's the link: Launch Meeting - Zoom
Calendar reminder
To add office hours as a regular event in your calendar, bookmark the Timescale Community Calendar